Jupiteration
is a Sci-Fi shooter game designed for virtual reality headset HTC Vive and Oculus Rift with Touch controllers.
Jupiteration revolves around stranded space craft pilot, who has to shoot his way from hostile environment full of enemy UFO's and large boss space crafts.
Explosions and enemy parts flying everywhere.
There are several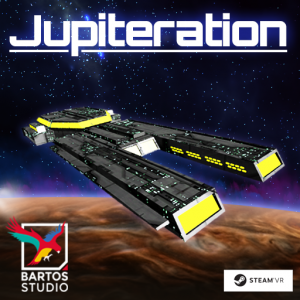 weapons that unlock while progressing through the game and some abilities are upgradable. Laser pistol, Sniper gun, minigun & more.
Using shield to deflect or dodge enemy attacks, upgrading your ma
in pistol and using "pick up" weapons that have only limited amount of ammunition.
You will progress thru several levels until you destroy the final boss.
The game was designed ground up for VR and the best user experience.
The game was released 10.Mar.2017 on Steam.
RECOMMENDED HW SPECS.:
OS: Windows 10
Processor: Intel i5
Memory: 8 GB RAM
Graphics: nVidia GTX 1070
DirectX: Version 12
Network: Broadband Internet connection
Storage: 2 GB available space
Sound Card: Any
VR Headset: HTC Vive
©2016 Valve Corporation. Steam and the Steam logo are trademarks and/or registered trademarks of Valve Corporation in the U.S. and/or other countries. All rights reserved.